Comptia
Regular price
$205.00
Sale price
$90.99
Unit price
per
Sale
Sold out
What's included
A remote lab environment that enables hands on practice in actual software applications using only a browser and internet connection
Scenarios aligned with CompTIA exam objectives
Once redeemed, CompTIA Labs will be valid for 12 Months
Labs Available:
Assisted Lab: Exploring the Lab Environment
Assisted Lab: Configuring Controls
Assisted Lab: Reviewing IoC and Threat Intelligence Sources
Assisted Lab: Performing Threat Hunting
Assisted Lab: Configuring Centralized Logging
APPLIED LAB: Performing System Hardening
Assisted Lab: Assess Time Synch Errors
Assisted Lab: Configuring Automation
Assisted Lab: Performing Asset Discovery
Assisted Lab: Performing Vulnerability Scanning
Assisted Lab: Performing Passive Scanning
Assisted Lab: Establishing Context Awareness
Assisted Lab: Analyzing Vulnerability Reports
Assisted Lab: Detecting Legacy Systems
APPLIED LAB: Performing Post-Incident Forensic Analysis
APPLIED LAB: Performing IoC Detection and Analysis
ADAPTIVE LAB: Performing Playbook Incident Response
APPLIED LAB: Collecting Forensic Evidence
Assisted Lab: Performing Root Cause Analysis
APPLIED LAB: Using Network Sniffers
APPLIED LAB: Researching DNS and IP Reputation
Assisted Lab: Using File Analysis Techniques
Assisted Lab: Analyzing Potentially Malicious Files
Assisted Lab: Using Nontraditional Vulnerability Scanning Tools
APPLIED LAB: Performing Web Vulnerability Scanning
Assisted Lab: Exploiting Weak Cryptography
Assisted Lab: Performing and Detecting Directory Traversal and Command Injection
Assisted Lab: Performing and Detecting Privilege Escalation
Assisted Lab: Performing and Detecting XSS
Assisted Lab: Performing and Detecting LFI/RFI
Assisted Lab: Performing and Detecting SQLi
Assisted Lab: Performing and Detecting CSRF
APPLIED LAB: Detecting and Exploiting Security Misconfiguration
What are CompTIA Labs for CySA+ (CS0-003)
CompTIA Labs hosted by Learn on Demand Systems allow for hands on practice and skill development in actual software applications through a remote lab environment. The browser-based virtual labs align with CompTIA exam objectives and are based on scenarios found in the workplace. The labs within each course are independent of each other and can be used in any order.
CompTIA Labs for CySA+ provides learners with the necessary platform to gain critical hands-on skills and develop a deeper understanding of the subject matter to prepare for your CompTIA CySA+ Certification. CompTIA Labs allows you to address the practical aspects of + exam objectives and complement prior training through access to real equipment and software environments.
HOW YOU'LL GAIN HANDS-ON EXPERIENCE WITH COMPTIA LABS FOR CySA+: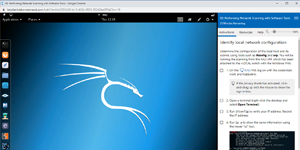 ACCESS TO HANDS-ON LEARNING
Browser-based access to software applications and operating systems used on the job.
WHAT YOU'LL LEARN WITH COMPTIA LABS FOR CySA+
CompTIA Labs addresses the practical aspects of the exam objectives on the CompTIA CySA+ exam, including:

THREAT MANAGEMENT
Apply environmental reconnaissance techniques using appropriate tools and implementing recommended response

VULNERABILITY MANAGEMENT
Implement vulnerability management process

SECURITY ARCHITECTURE & TOOL SETS
Use the appropriate tools to secure and protect applications and systems within an organization

CYBER-INCIDENT RESPONSE
Identify threats and risks and determine appropriate response
Share
View full details